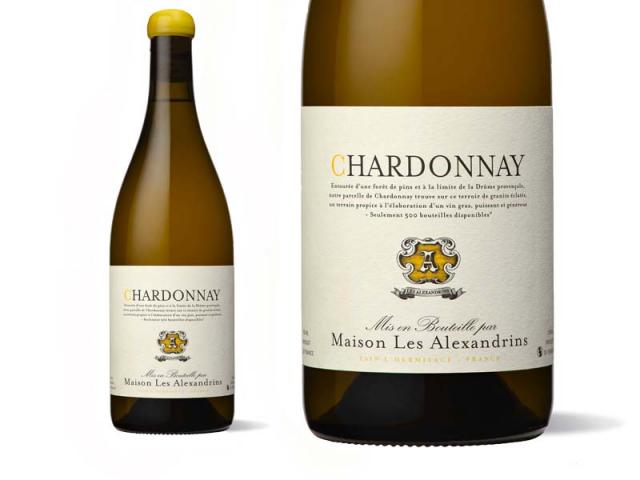 Maison Les Alexandrins, a signature modern in approach and contemporary in style. In the purest Chardonnay tradition, this wine is full-bodied with fine toasted notes and hints of wood.
Description
A partnership between three winegrowers from the Rhône Valley – Nicolas Jaboulet, Guillaume Sorrel and Alexandre Caso – Maison les Alexandrins produces northern wines in a style at once contemporary and timeless, always from exceptional vineyards unearthed by Alexandre Caso, a specialist in the terroirs of the northern Rhône Valley. Classics with a twist, these wines and how they are aged and blended are guided by the quest for perfect harmony from a very young age. This wine comes from a Bréseyme vineyard with chalky soil.
The vintage
2021 was a winemaker vintage and required great responsiveness to very variable weather, comforting us in the pursuit of our good work in the vineyard. Winter was mild, followed by spring frosts before a dry mid-spring and then a cool summer with record rainfall. By stripping the leaves at the beginning of July, our grapes remained healthy. The harvest started in good conditions with the whites on September 13th in Brézème (-80% harvest due to frost), followed by Crozes-Hermitage and Condrieu. The summer conditions preserved a rare balance in our region. The Marsanne and Roussanne reveal freshness, minerality and precision, the Viogniers aromas of fresh fruit and a mouth full of finesse. For the reds, the lowland vineyards are full of indulgence with floral aromas and soft tannins. Finally, the granite terroirs reveal notes of pepper and spices and a rich palate.
Situation
Chardonnay is the best-known and most prevalent white varietal in the world. Originating from Burgundy, it belongs to the Noir family, being a natural and direct descendant of Pinot Noir, coupled with another ancient variety, Gouais Blanc. Noted for being graceful and elegant and its ability to adapt to its environment, it has the power to interpret any terroir in which it flourishes.
Process
- Fermentation in new barrels.
- Stirred to bring out its full-bodied nature.
- After nine months, the wine is blended in stainless steel vats to preserve its freshness.
Varietals
Chardonnay : 100%

Tasting notes
Delicate pale-yellow colour. On the nose, this wine reveals a pretty aromatic bouquet with aromas of white flowers and almonds, with toasted notes reminiscent of its ageing. Generous, ample and fat on the palate, it is well balanced thanks to a good acidity.
Food and wine pairings
This wine is perfect as an aperitif with gougères (cheese puffs).
Serving
Serve at 14°C. Drink young, from 2 years old.