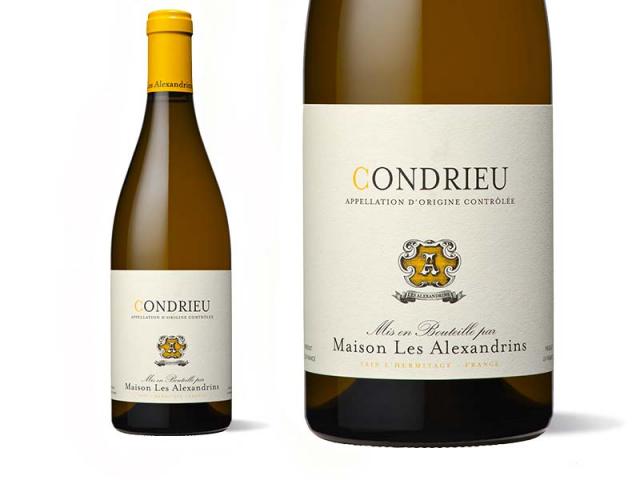 Maison Les Alexandrins, a signature modern in approach and contemporary in style. Condrieu is an appellation that elevates the Viognier grape to the rarest heights of refinement. Oozing elegance, this wine brings a delicate minerality that works beautifully with its luxurious roundness and notes of exotic fruits.
Description
A partnership between three winegrowers from the Rhône Valley – Nicolas Jaboulet, Guillaume Sorrel and Alexandre Caso – Maison les Alexandrins produces northern wines in a style at once contemporary and timeless, always from exceptional vineyards unearthed by Alexandre Caso, a specialist in the terroirs of the northern Rhône Valley. Classics with a twist, these wines and how they are aged and blended are guided by the quest for perfect harmony from a very young age. Comes from vines located in Condrieu and Limony.
Terroir
Here the parent rock is granite. The topsoil varies between decomposing granite and loess. This soil is perfectly suited to the Viognier grape variety and the vines, planted in terraces, are constantly bathed in sunshine.
The vintage
2021 was a winemaker vintage and required great responsiveness to very variable weather, comforting us in the pursuit of our good work in the vineyard. Winter was mild, followed by spring frosts before a dry mid-spring and then a cool summer with record rainfall. By stripping the leaves at the beginning of July, our grapes remained healthy. The harvest started in good conditions with the whites on September 13th in Brézème (-80% harvest due to frost), followed by Crozes-Hermitage and Condrieu. The summer conditions preserved a rare balance in our region. The Marsanne and Roussanne reveal freshness, minerality and precision, the Viogniers aromas of fresh fruit and a mouth full of finesse. For the reds, the lowland vineyards are full of indulgence with floral aromas and soft tannins. Finally, the granite terroirs reveal notes of pepper and spices and a rich palate.
Situation
An Appellation d'Origine Contrôlée in the northern Rhône Valley since 1940, the Condrieu vineyard lies at the northernmost part of the Rhône Valley, on the right bank of the river, between the Côte-Rôtie and Saint-Joseph appellations. Its white wines are made exclusively from the Viognier grape variety, whose earliest vines were first grown in Roman times.
Process
- Vinification partly in tanks and partly in 225-litre barrels.
- Matured on fine lees for 8 months.
Varietals
Viognier : 100%

Tasting notes
Beautiful shiny-gold color with golden undertones. Subtle and precise, the nose reveals a seductive aromatic bouquet. This vintage shows beautiful acidity and reveals powerful citrus notes before showing its exotic character, typical of the Viognier grape variety, with notes of white peaches and spices. It is a powerful and voluptuous wine with a beautiful richness, perfectly balanced by a very distinct citrus freshness. Simply irresistible.
Food pairings
This wine is perfect as an aperitif served with a prawn platter.
Serving
Serve between 11°C and 12°C. Drink within the next 5 years.